2021/07/10 Air Base Ramstein, Germany


Peace Bike Star Ride around the Air Base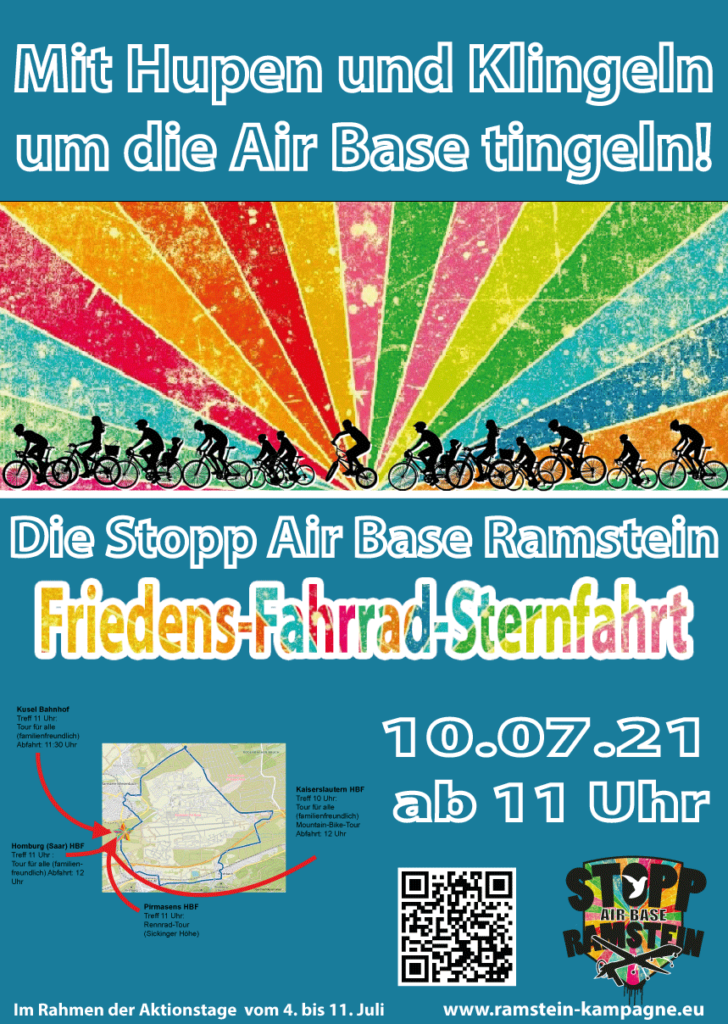 English description further below!
Wir radeln für eine Welt, die von Krieg und Drohnen nichts mehr hält – Auf die Straßen, auf nach Ramstein!!! Wir protestieren gegen den Wahnsinn der Aufrüstung, gegen völkerrechtswidrige Drohneneinsätze, gegen Krieg und Militarismus.
Wir wollen Frieden!
Am 10. Juli findet ab 11 Uhr die Fahrradsternfahrt von Kaiserslautern, Kusel, Pirmasens, Homburg aus zur US-Militärbase Ramstein und um die Base statt https://www.ramstein-kampagne.eu/fahrradmarathon/
Download Plakat in Druckqualität: https://www.no-to-nato.org/wp-content/uploads/2021/06/Plakat-Sternfahrt.jpg 2.600 KB
+++ July 10, 2021: The bicycle protest against Ramstein Air Base! No to drones and war! Peace now +++
We cycle for a world that is no more to war and drones
On July 10, beginning at approx. 11 a.m.: Peace bike ride as a rally from Kaiserslautern, Kusel, Pirmasens, Homburg to the US military base Ramstein and around the military base.
We protest against the madness of rearmament, against drone missions that violate international law, against war and militarism.
We want peace!
An end to drone warfare and no military bases, instead a healthy environment also for our bicycle tours, social justice and a self-determined life – that's why we are cycling right now – against resignation and contemporary spirit for a peaceful future.
It is fun and joy, together hopefully also with you, to move together and to engage actively for peace.
Everyone can join in – bicycles are also available on site. Our bicycle community is a solidarity-based peace community, no one is left behind, everyone is needed for peace.
Are you with us? This time with the bicycle for peace.
The meeting points are:
Kaiserslautern Central Train Station (Hauptbahnhof): 10 a.m. (tour for ALL and mountain bike tour) Departure: 12 p.m.
Homburg (Saar) Central Train Station (Hauptbahnhof): 11 a.m. (tour for ALL) Departure: 12 p.m.
Pirmasens Central Train Station (Hauptbahnhof): 11 a.m. (racing bicycle tour over mountain Sickinger Höhe) Departure: 12 p.m.
Kusel train station: 11 a.m. (tour for ALL) Departure: 11:30 a.m.
Please note: Both the racing bicycle tour and the mountain bike tour are additional offers for particularly sporty cyclists. Prerequisites are suitable bicycles and sufficient physical condition for the somewhat more demanding routes. Helmets are compulsory on both tours; for the other tours we recommend a bicycle helmet.
Final tour – together around Air Base Ramstein:
Parking lot in front of the West Gate, at the Air Base Ramstein memorial 3 p.m. Joint loop around Air Base Ramstein .
Please check your bikes beforehand for road-worthiness!
Since we are cycling in a larger group, we recommend for safety reasons that families with younger children do not participate on a small bike, but if possible have the children ride in a bike trailer, in a child seat or on a trailing bike. Cycling in larger groups requires special attention and concentration from all participants.
Translated with www.DeepL.com/Translator (free version)