M51 missile tests between June 9 and July 8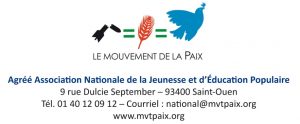 The Ministry of the Armed Forces announced on 9 June the M51 missile launches: «The window of fire for these tests is scheduled between early June and mid-July», the ministry said.
"There will be no detailed communication on these activities as operational activities and weapons systems testing related to nuclear deterrence are covered by defence secrecy," the Ministry of the Armed Forces added.
The Maritime Prefecture of the Atlantic has issued an order, "on the occasion of a test launch organized by the Directorate General of Armaments (DGA)", delineating an area where navigation, anchorage, fishing, scuba diving and nautical activities are restricted. These restrictions are in effect from 8 June to 8 July. They apply to an area south of Penmarch', in South Finistère.
Le Mouvement de la Paix  calls for action
First actions against the holding of these tests are planned in Brittany at the initiative of the Peace Movement in  different cities (Nantes, Rennes, Lannion, Saint Malo, Penmarc'h, Morlaix…) in the form of protest pickets, or protest circles, or picnics for peace. These initiatives are part of "the consensus emerging in public opinion in favour of a reduction in global military spending and the development of global cooperation in priority areas such as health security and environmental security", the organization said in a statement on the "resumption of M51 nuclear missile testing at Penmarch Point"(cf declaration June 9)
Le Mouvement de la Paix calls everywhere in France to amplify this movement through multiform local actions in the maximum number of cities. In compliance with health precautions, it calls for groups of about ten people in the coming days and until the end of June in front of the town halls, privileged places of expression of citizenship, or the prefectures, symbolic places of power of the State.