2019/05/04 New York
Growing Nuclear Risk and New Thinking in a Changing World
We're now in the post-post Cold War era, an interregnum marked my major geopolitical changes, uncertainty, and an unrestrained nuclear arms race.  With partner organizations across the U.S., Europe and East Asia, we have assembled a remarkable group of analysts and movement leaders to deepen our understanding of the changing world and how we can best respond.
On May 4, 20198 (8:30 a.m.-5:30 p.m.), at Judson Memorial Church in New York City, we invite you to join an international conference, "Growing Nuclear Risks in a Changing World: New Thinking and Movement Building."
Speakers include Oleg Bodrov (Russia,) Reiner Braun (Germany,) Reese Chenault (USLAW) Arielle Denis (Francce,) Sharon Dolev (Israel,)  Daniel Ellsberg,  Boris Kargarlitsky (Russia,)  Rev. Karlene Griffith Sekou (MBL,) Lee Taeho (South Korea,) Yayoi Tsuchida (Japan,) Aichn Vanaik (India), myself and others.
We're expecting a full house, so register early if you want to join us. Info and registration at https://spark.adobe.com/page/bV2P4R2Eg42Yf/ and the attachments.
For peace, justice, the environment and democracy,
Joseph Gerson
Download: May 4 flyer front page final.pdf
Download: May 4. flyer agenda.final.pdf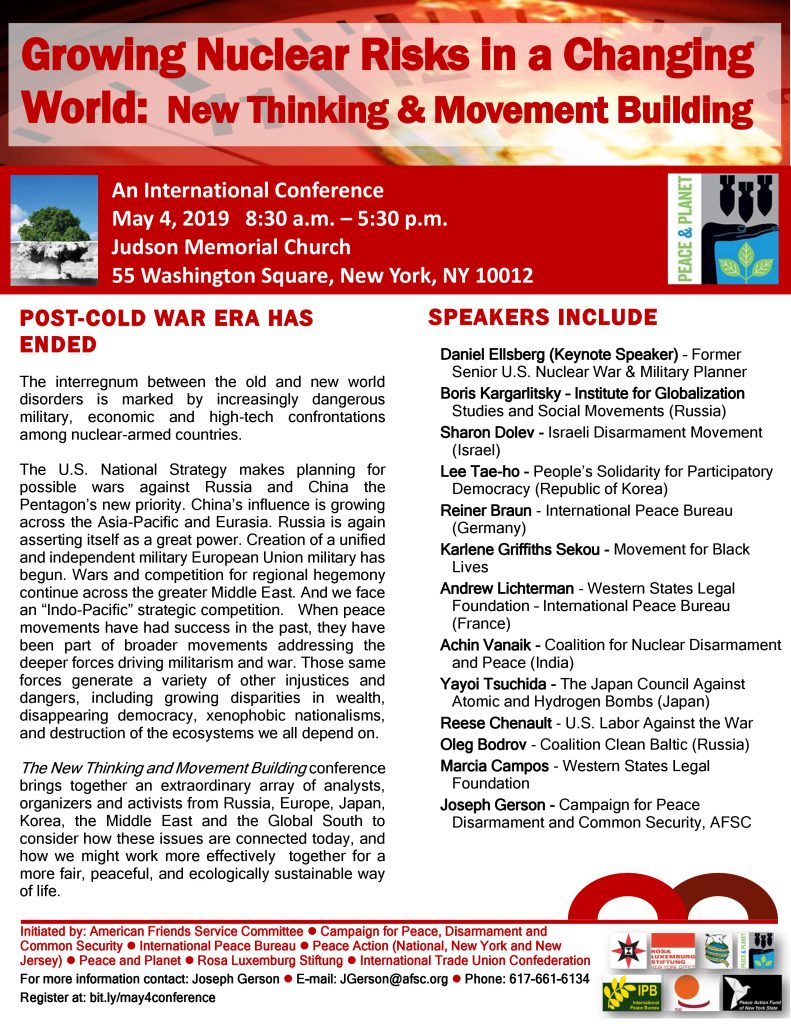 See also: http://www.rosalux-nyc.org/may4/