2019/04/02 Washington DC
No to NATO – Yes to Peace & Disarmament Counter-Summit
Program is now online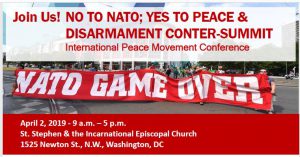 JOIN us!
No to NATO, Yes to Peace & Disarmament Counter Summit
International Peace Movement Conference
April 2 Washington, D.C.  9 am – 6 pm
NATO turns 70 in 2019 and will celebrate its anniversary in Washington, D.C. on 4th, Martin Luther King Jr. Day and the anniversary of MLK's seminal "Beyond Vietnam" speech in which he called for us to overcome the triple evils of militarism, racism and extreme materialism.
With the end of the Cold War NATO should have been retired. Instead it has been repurposed. NATO claims to strive for collective defense and for the preservation of peace and security. But, NATO has never been such a system. It is the largest military alliance in the world with the greatest military spending and nuclear stockpiles. It is the main driver of the new arms race and the main obstacle to a nuclear weapons-free world. Having expanded across eastern Europe and into former Soviet republics with military troops now at Russian borders, its new nuclear weapons and a first-strike related "missile defense shield," NATO has instigated a new Cold War with Russia. NATO has also been transformed into a global military alliance structured to wage "out of area" wars in Asia, the Middle East and North Africa, and to "contain" China.
In addition to its wars from Afghanistan to North Africa, NATO is sacrificing and demeaning lives across the United States and Europe by diverting billions of dollars away from badly needed health care, housing, environmental sustainability and education. NATO members, led by the U.S., already spend nearly $1 trillion per year. This is not enough for Trump, who is demanding a massive increase in the Pentagon budget and that other NATO members increase their military spending to at least 2% of their GPDs. Raising living standards and improving people's lives must be prioritized over weapons and war which create instability and exacerbate social injustice, deprivation and environmental destruction.
NO TO NATO; YES TO PEACE & DISARMAMENT COUNTER-SUMMIT
CONFERENCE AGENDA
09:00-09:30 Registration
09:15-09:30 Songs by Be Grosscup
09:30-09:45 Welcome
Kristine Karch, No to war – No to NATO (Germany)
Andreas Gunther – Rosa Luxemburg Stiftung (New York)
09:45-10:45 Panel 1
Moderation: Kristine Karch
70 years of NATO – 70 years of Militarism and War
Prof. Peter Kuznick, American University (Washington)
Global NATO of today (worldwide alliance, European militarization)
Reiner Braun, Co-President International Peace Bureau (Berlin, Germany)
Hypocrisy: Martin Luther King's Triple Evils & NATO
Rev. Graylan Hagler – Plymouth Congregational United Church of Christ (Washington)
10:45-11:330  Panel 2
Moderation: Kristine Karch
21st century NATO US, Europe & Russia: Economic, Imperial & Authoritarian Forces Driving the New Era of Confrontation
Phyllis Bennis, Institute for Policy Studies, (Washington)
Anna Ochkina, Institute of Globalization and Social Movements (Moscow, Russia)
Alexander Neu, Member, German Parliament (Germany)
Iran speaker TBA
11:45-12:30 Panel 3
Moderation: Kristine Karch
Unified & Independent E.U. Military? And it's Relationship to NATO, U.S. & Russia
Kate Hudson, CND (UK) via video
Ludo de Brabander, vrede vzw (Belgium)
Medea Benjamin, Code Pink (USA)
12:30 – 1:30 Lunch
01:30 – 03:00 Workshop Session
A Deadly Connection: Nationalism, Authoritarianism & Economic Forces Internal and external militarization and the increase of violence
Kevin Martin & Reiner Braun

NATO: 70 Years of Militarism, nuclear weapons, foreign basis & A 21st Century Global Alliance and the next NATO summit
Marion Küpker & John LaForge

Women & Resistance, Pictures of Masculinity
Kristine Karch
Moving the Money from the Military to Addressing Human Needs: Intersectional approaches to resistance
Arielle Cold & Alexander Neu
Driving Forces of the New Era of Confrontation: U.S., NATO & Russia, China – Imperial, Authoritarian & Economic, regime change (Venezuela) and the European militarization
Joseph Gerson & Anna Ochkina
Automated Warfare: robots, cyber & arming the heavens
Bruce Gagnon
3:00-3:15 Coffee Break
3:15-3:45 Common Security – The Alternative to NATO
                  Joseph Gerson, AFSC/CPDCS (Cambridge)
3:45-5:45 Panel about Resistance
Moderation: Kevin Martin;
Panelists: Kristine Karch, Anna Ochkina, Medea Benjamin, Reiner Braun, Ann Wright, David Swanson
5:45-6:00 Closing Remarks – Kevin Martin
Download the flyer with the agenda:  Apr 2 CONF AGENDA Final 20190313.pdf
Facebook Event for the Counter Summit: https://www.facebook.com/events/534876943698179/
---
This registration form is a google.docs https://docs.google.com/forms/d/e/1FAIpQLSciHxtLcIZRGtQ6WF21rS0wz7mWry1_7vf8mTXsHfE3V5c9Fw/viewform