2019/01/19 Washington, USA
Women's March on Washington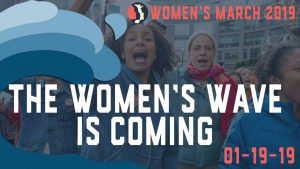 It's time to march again. The 2017 Women's March inspired hundreds of women to run, millions more to vote, and dozens to win elected office. The 2019 Women's March marks two years of resistance to the Trump presidency, two years of training new activists, and two years of building power. And this time, we're coming back with an agenda.
On January 19, 2019, we're going to flood the streets of Washington, D.C., and cities across the globe. The #WomensWave is coming, and we're sweeping the world forward with us.
Stand Out For Peace And For Yemen This January
The other women's march that doesn't highlight the necessity to end the US Empire and the fact that War IS A Women's Issue is once again marching for an end to the Trump regime the weekend of January 19th.
We invite you to Stand Out for Peace and for Yemen near and during the time of their local women's march (Google "Women's March" and your town—or nearby town to get information about those events).