2017/03/18 Copenhagen
Nej til dansk Krigsdeltagelse – Danmark UD af NATO No to the Danish War Participation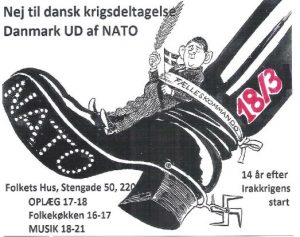 March 20 it is 14 years ago Denmark without FN-mandate declared war with Irak, under large protests from the population. Denmark has without interruptionsparticipated in warmissions since then. NATO is in full swing building up to war, also in the nordic countries.
Saturday march 18th, at Folkets Hus, Stengade 50, 2200 Copenhagen N
4 pm Peoples kitchen
5 pm Presentations Tue Magnussen & Pernille Grumme
6 pm music
In danish:
Den 20. marts er det 14 år siden Danmark uden FN-mandat gik i krig i Irak, under store protester fra befolkningen. Uden afbrud har Danmark deltaget i krigsmissioner lige siden. NATO er i fuld gang med oprustning og krigsforberedelser, også i Norden.
Lørdag den 18. marts: Nej til dansk krigsdeltagelse & Danmark ud af NATO
Kl. 16-17 med Folkekøkken (ligger så tidligt pgra. samarbejde med antiracismedemoen inden).
Kl. 17-18
– Tue Magnussen, bestyrelsesmedlem i Tribunalforeningen, beretter om Danmarks krigsforbrydelser
– Pernille Grumme, formand for Kunstnere for Fred, gennemgår de facts, der var grundlaget for dansk krigsdeltagelse i Afghanistan, Irak, Libyen og Syrien.
– opfordring til at melde sig ind i Tribunalforeningen (www.iraktribunal.dk)
KL. 18-21 Musik for gamle og unge ører.
Entré efter evne
Sted: Folket Hus, Stengade 50, 2200 N
Arrangører: 3F BJMF & TID TIL FRED – aktiv mod krig
På vegne af arbejdsgruppen
Gerd Berlev
tlf. 5178 0906
Download the flyer: <href="http://www.no-to-nato.org/wp-content/uploads/2017/03/flyer-dk-march2017-218×300.jpg" download="flyer-dk-march2017-218×300.jpg" >flyer-dk-march2017-218×300.jpg