As the network No to NATO have decided on the network meeting in Warsaw 2016 we will create on our website a calender with peace activities around the world.
So please send us () your activies, so that we can publish them.
Friday June 29th start at 12.00 noon – 6.00 pm Church of Reconciliation, Leipziger Straße 5, 67663 Kaiserslautern Provisional agenda 11.00 am Opening and welcome 11.15 – 1.00 pm No to military bases – Experiences from actions (reports and discussion): — US military base Pat Eden — Military bases in GB — Activities against the US air base in Ramstein — New military base in Sicily 1.00 – 2.00 pm Lunch break 2.00 – 4.00 pm Discussion about next steps … Continue reading →
---
Past Events
---
26.04.2018 The United Nations today adopted a decision to postpone the UN High Level Conference on Nuclear Disarmament which was scheduled to take place in New York from May 14-16, 2018. New dates for the conference have not been set. Indeed there are still some political and organizational hurdles to be overcome in order to ensure that the High-Level Conference proceeds. High-Level conferences are high-stakes events. They can accomplish a lot if successful, but they are also very difficult to … Continue reading →
IPB and Partners to host International Conference on Nuclear Dangers and the Ban Treaty Hopes I am excited to announce an extraordinary peace and nuclear disarmament conference May 12 in New York city. It will feature, among other Noam Chomsky, Daniel Ellsberg, Tjara Cronberg, Sergio Duarte, Zia Mian, Christie Hong, Hiroshi Taka and others. Mark your calendars: May 12, 10 – 4 the Judson Memorial Church at 55 Washington Square South and Thompson Street. No fees involved. At this time … Continue reading →
Conference in New York Two Minutes to Midnight How Do We Move from Geopolitical Conflict to Nuclear Abolition? Saturday, May 12 10am – 4pm Judson Memorial Church, Assembly Hall, 229 Thompson St. (South of washingtonn Square Park) New York City. As a lead-up to the United Nations High Level Conference on Nuclear Disarmament (May 14-16), this conference is convened to analyse and warn about the current nuclear dangers, to raise the Ban Treaty and other disarmament initiatives, and to build … Continue reading →
AGM Session 2: New York. May 11 The UN General Assembly is holding its first ever High-Level Conference on Nuclear Disarmament from May 14-16 in New York. Abolition 2000 members have been encouraging governments to attend at the highest level, and to advance concrete nuclear-risk reduction and disarmament measures at the conference. Abolition 2000 members are also organizing some parallel events including Count the Nuclear Weapons Money from May 10-16 and an international conference on nuclear disarmament on May 12. … Continue reading →
Side Event of the 2nd Preparatory Committee to the NPT Review Conference
Nuclear weapon free zone or zone free from weapons of mass destruction?:
Monday 30 April at 13:15 CET
For the second side event in cooperation with the Parliamentarians for Nuclear Non-proliferation and Disarmament, IPB wants to shed a light on "Nuclear weapon free zone(s) or zone(s) free from weapons of mass destruction". The focus will be on West Asia and North Africa.
The event will be held at the UNO Palais des Nations in Geneva.
More information see: www.ipb.org
AGM Session 1: Geneva. April 28 States Parties to the NPT will be meeting in Geneva from April 23 – May 4 for the 2nd Preparatory Conference for the 2020 NPT Review. The Abolition 2000 AGM will be held in the weekend in-between the two weeks of NPT deliberations. Abolition 2000 was established at the 1995 NPT Review and Extension Conference, with a focus on the full implementation of Article VI of the NPT, the obligation to achieve complete nuclear … Continue reading →
Side Event of the 2nd Preparatory Committee to the NPT Review Conference Nuclear weapons in Europe Friday 27 April 10:00 CET The event "Nuclear weapons in Europe" will depict the status quo of nuclear weapons either held by European countries or stationed in Europe by foreign powers. In a time where nuclear weapons are modernised and renewed we need to take a closer look at their impact on the regions. Facing the rising tensions in the world we need to … Continue reading →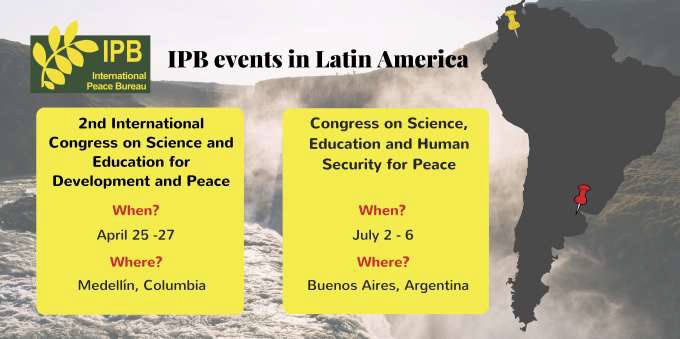 2nd Preparatory Committee to the NPT Review Conference
IPB together with ICAN will held a campaigners meeting April 21 and 22 Geneva Press Club,Route de Ferney 106, Geneva … Continue reading →
March 25th, 2018 Brussels from 11:00 to 17:00 h
Location: Kurdish Institute of Brussels – Rue Bonneels, 16 1210 Brussels.
To get there: from station Brussels-midi take metro to Madou (line 2) – from there it's a 10 minutes walk. Other option: It's a twenty minute walk from Central Station. http://www.kurdishinstitute.be/contact-en/ Continue reading →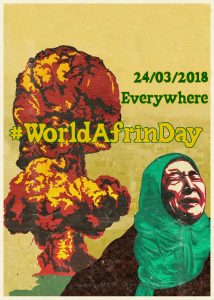 read more in several languages:
Mar 4-18, 2018  Veterans for Peace mission to Vietnam on 50th anniversary of the My Lai massacre
Feb 25-Mar 4, 2018  CODEPINK: Women for Peace trip to Cuba
English below Aufruf/Info zum GLOBAL ACTION DAY Berlin in Berlin am Samstag, 24. Februar 2018 um 14 Uhr vor der US-Botschaft beim Brandenburger Tor in SOLIDARITÄT MIT CUBA & GEGEN DIE US-Militärbasis GUANTÁNAMO/Cuba Seit genau 115 Jahren halten die USA Guantánamo Bay als Marinestützpunkt besetzt. Seit dem Sieg der cubanischen Revolution 1959 verlangt Cuba, verlangt das cubanische Volk die Rückgabe seines eigenen Territoriums, wie es dem völkerrechtlichen Prinzip der Selbstbestimmung entspricht. Guantánamo wurde vom US-Militär 1903 unter kolonialen Machtverhältnissen eingenommen … Continue reading →
The conference attendees* decided on some next steps. A national day of action against foreign military bases is being planned for February 23, the anniversary of the US seizing Guantanamo Bay, Cuba through a "perpetual lease" that began in 1903. Activists are encouraged to plan local actions. If you plan an event, contact and we'll post it on the events page. The demands will include closing the base and prison in Guantanamo, returning the land to Cuba and ending the US blockade.
*The Coalition Against US Foreign Military Bases, held its inaugural event January 12-14, 2018 at the University of Baltimore in Maryland.
PEACE, NOT AN ARMS RACE – NO TO WAR!
Take to the streets in Munich on
Saturday, 17 February 2018
Sign the Call and come.  http://sicherheitskonferenz.de/en/Aufruf-SiKo-Proteste-2018
Aufruf unterschreiebn und zur Demo kommen: http://sicherheitskonferenz.de/de/Aufruf-SiKo-Proteste-2018
The next  NATO summit is scheduled for 11 and 12 July 2018 in Brussels, Belgium. Main topics will be the evaluation of the 2% rule in the member-countries and the confrontation with Russia, the militarization of the EU and the nuclear weapons modernization. The international network No to war – no to NATO is working against NATO and NATO summits since 2009 (NATO's 60 year anniversary summit) and will be active also in 2018. The ICC (international coordinating committee) of … Continue reading →
Conference on U.S. Foreign Military Bases January 12-14, 2018 University of Baltimore Baltimore, Maryland Hosted By: Coalition Against U.S. Foreign Military Bases Thirteen prominent peace and justice organizations in the United States are collectively organizing a 3-day national conference on U.S. Foreign Military Bases on January 12-14, 2018, at the University of Baltimore, Maryland: Alliance for Global Justice Black Alliance for Peace CODEPINK Global Network Against Weapons and Nuclear Power in Space International Action Center MLK Justice Coalition Nuclear Age … Continue reading →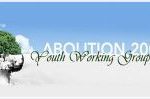 Young academics, professionals and activists working in the field of nuclear disarmament, are invited to Prague for the international youth conference Reaching HIGH for a Nuclear-Weapon-Free World. The conference, which will take place from Nov 27-29, 2017 (apologies for incorrect date in an earlier notice) at the historic Charles University, established in 1348 by King Charles of Bohemia. It will include workshop sessions, networking, action planning, an exciting social media action and a visit to the ATOM Muzeum, a former … Continue reading →
The MacBride Prize Ceremony will be held on Friday, 24th November in Barcelona.
Webinar series next 3 Wednesdays at 7pm starting October 18, 2017 (Tuesday) October 18, 2017 (7 PM- 8:15 PM) Economic War with North Korea: Impact of Sanctions on North Korean People Webinar series: next 3 Wednesdays at 7pm. The United States and North Korea are on a dangerous path towards a military confrontation that could kill millions and engulf the world in a nuclear holocaust. It's time for the U.S. anti-war and peace movements to mobilize mass opposition to … Continue reading →
Webinar series next 3 Wednesdays at 7pm starting October 18, 2017 (Tuesday) October 18, 2017 (7 PM- 8:15 PM) Economic War with North Korea: Impact of Sanctions on North Korean People Webinar series: next 3 Wednesdays at 7pm. The United States and North Korea are on a dangerous path towards a military confrontation that could kill millions and engulf the world in a nuclear holocaust. It's time for the U.S. anti-war and peace movements to mobilize mass opposition to … Continue reading →
Webinar series (Tuesday) October 18, 2017 (7 PM- 8:15 PM) Economic War with North Korea: Impact of Sanctions on North Korean People Webinar series: next 3 Wednesdays at 7pm. The United States and North Korea are on a dangerous path towards a military confrontation that could kill millions and engulf the world in a nuclear holocaust. It's time for the U.S. anti-war and peace movements to mobilize mass opposition to Trump's saber rattling and demand a diplomatic solution to … Continue reading →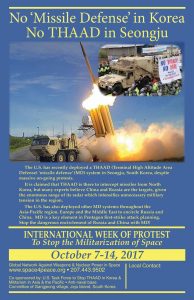 October 7-14, 2017
Keep Space for Peace Week
International Week of Protest to Stop the Militarization of Space
No Missile Defense
Close U.S. Bases Worldwide
No to NATO
Stop Drones Surveillance & Killing
End Privatization of Foreign/Military Policy
Convert the Military Industrial Complex
Deal with climate change and global povert Continue reading →
No to War Call to Action October 6, 2017, marks the 16th anniversary of the U.S. invasion of Afghanistan – the longest foreign war in U.S. history. The Afghan war, which has been a thoroughly bipartisan effort, was originally railed against by Donald Trump when he was running for president. He claimed to be against U.S. troop involvement in Afghanistan. Now he is moving forward with a "secret" plan of escalation that will also include Pakistan.  He says the secrecy … Continue reading →